Wonderful, blunderful Ramona!
Ramona Quimby is a very smart little girl. Whether she is making walking stilts out of old tin cans or trying to earn a million dollars by pretending she is acting in a TV commercial, there is nothing Ramona won't try. Her funny, witty nature makes her popular with neighbors – but also gets her into trouble! Who knows what she might be up to next?
Children everywhere identify with Ramona and her way of looking at the world. Beverly Cleary, the author, truly knew how kids feel, think and speak! It is no wonder therefore, that her many books are a huge success!
Beverly Cleary is wildly popular with children.
– Washington Post Book World
Ever since it was first published in 1955, The Complete Ramona Collection has been a hit. Two of the books, Ramona and her Father and Ramona Quimby, Age 8 have been awarded the Newberry Honor Medal. You cannot help but fall in love with imaginative, funny Ramona – her lively, curious spirit, the scrapes she accidentally gets herself into, and the solutions she finds for them make her an absolutely real character. Reading through her adventures, it is like you are watching the kid from next door! Follow Ramona and her friends as they grow up and go to school – you are GUARANTEED to love them!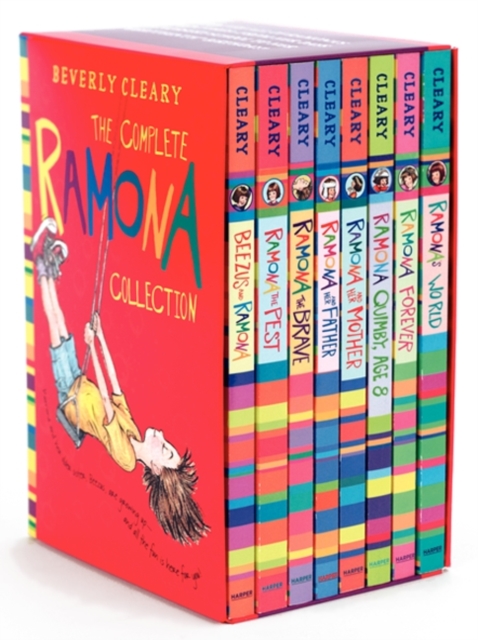 What they're saying about Ramona
Ramona is one of the funniest little sisters in fiction.
– New York Times on Beezus and Ramona
True, warm-hearted, and funny.
– ALA Booklist on Ramona and her Father
It's a rare thing to be hailed by audience and critics alike. In Mrs. Cleary's case, everyone seems delighted.
– New York Times on Ramona Quimby, Age 8
Hooray for Beverly Cleary! Bravo for Ramona the Brave!
– Reading Teacher on Ramona the Brave
On March 25th, 2021, beloved author Beverly Cleary died, aged 104. She will live forever though, through her timeless books.